After 16 years as President of the Friends of the Arts, founding member Charlie Schaeffer has decided to step down from his post. Charlie has provided expert leadership in overseeing, along with Jan Zoesch, the tremendous growth of this program which has benefited literally thousands of students throughout Duplin County, introducing them to the arts through stage and classroom performances. Charlie's leadership will be missed but new president, Tom Castellino, will provide the same passion in insuring the continuation of this wonderful program.
Board of Directors

Tom Castellino - President
Jan Zoesch - VP, Program Coordinator
Peg Bodine - Treasurer
Lynda Goodman - Secretary
Accomplishments
Sixteen (16) years

411 total performances

383 In-School Performances

82,500 Students in attendance

Annual Professional tuning of
school pianos

Annual Scholarship to high
school seniors totaling $8,000

28 Community Performances

8,180 Attendees

61 Total Artistic Acts

Friends of the Arts has
contributed $250,000 to the arts
since inception
The Wallace-Rose Hill Friends of the Arts was created in 2004 to promote local cultural growth and awareness of the Arts. Our objective is to bring Fine Arts programs to the schools and the entire community, donating any surplus proceeds to the school system's Art and Music programs
The Friends of the Arts has established close working relationships with the Principals and faculty at participating schools, and these educators are extensively involved in program planning and execution.
Friends of the Arts performances are held in the 752-seat Fine Arts Center at the Wallace-Rose Hill High School located in Teachey, North Carolina, as well as in the local Wallace and Rose Hill Elementary Schools.
The Friends of the Arts continues to schedule outstanding performances for all students, kindergarten through high school. In addition, some of the performing artists visit the classrooms and work with the students on such things as song writing, story telling and playing various musical instruments. Also, our community-wide events will include our annual Christmas Show and Summer Outdoor Concerts.

The Wallace-Rose Hill Friends of the Arts is a tax-exempt non profit organization under section 501(c)(3) of the Internal Revenue Code and as such depends entirely on the financial and volunteer support of the community. Contributions can be forwarded to Wallace-Rose Hill Friends of the Arts, 192 Cypress Point, Wallace, NC 28466.

Individuals or businesses interested in obtaining more information please email us at: INFO@wrhfoa.com.

Presenters can email us at ATOZ1435@aol.com.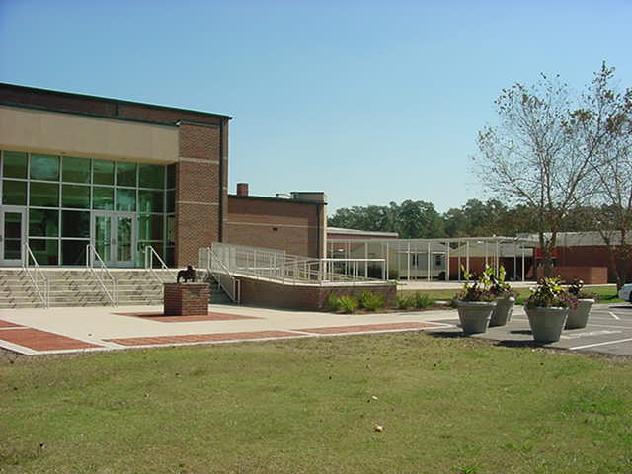 Fine Arts Center at Wallace-Rose Hill HS